A strong New Zealand Olympic team is tipped for a record haul – Marc Hinton reports.
Dame Valerie Adams does not go for the softly-softly approach. There is no tip-toeing around her ambition for this remarkable Kiwi sporting colossus as she prepares for a record-equalling fifth Olympic Games. She is heading to Tokyo for one reason, and one reason only.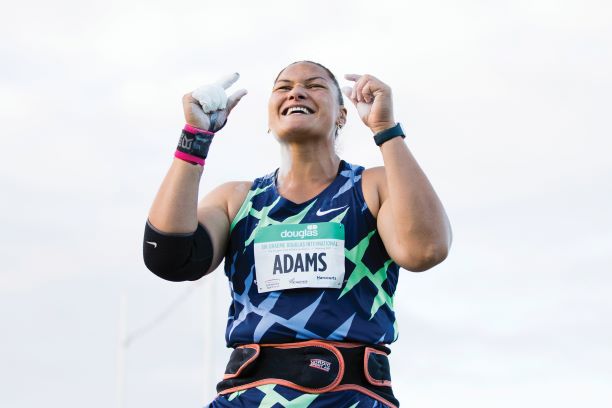 "My goal is to freaking smash it over there, and come home with a gold medal," said the New Zealand sporting great shortly after being named to the Kiwi athletics lineup for Tokyo. Only boardsailing icon Barbara Kendall among Kiwi women has been to as many editions of the four-yearly global sporting extravaganza, where Dame Val has certainly had her share of success, with two gold medals (2008 and '12) and a silver ('16) in the shot put.
"Everybody needs to go to Tokyo for one reason, and that is to try to win a gold medal for your country," added the 36-year-old athletics legend. "It's going to be a very hard task for me, but I'm up for the challenge. I'm doing everything I can right now to be in the best position possible to make that happen."
The Adams "go for gold" approach is to be admired, and hopefully it proves inspirational. Leading Olympic data experts Gracenote predict New Zealand could win nine golds in Tokyo and 20 medals in total. Both would be records. The previous biggest haul was the 18 last time out in Rio de Janeiro, while the eight golds won at the 1984 Los Angeles Games represents the high mark for that achievement.
Should Adams achieve her ambition and come back from Tokyo with the third gold medal of her career it would be a remarkable achievement. Not just because of her age, but she has also had two babies (Kimoana and Kepaleli) during this five-year Olympic cycle, and as she is only too happy to enlighten us about, that ratchets up the degree of difficulty by a considerable degree.
"Pregnancy does things to your body which are crazy," shared Adams who has commuted to Christchurch this year to train under Tom Walsh's coach, Dale Stevenson. "And we have to factor in my age. I've had two kids by C-sections. With my first child after six months I was at the Commonwealth Games, and won a silver medal. I was pretty happy with that, so I thought, 'cool, let's have another baby and try for the Olympics'.
"To come back and qualify for my fifth Olympics after having two children I think is a triumph, not only for myself, but also for female athletes around the world because it's difficult for them. If they want to have a family, a lot of sports will push them into retirement … quite frankly, have a break, have your children and come back to sport. You can do it."
And if there was a moment this Kiwi summer when Adams showed she might just be up for something special in Tokyo it was when she blasted the shot out to a world-leading 19.65 metres at the international meet in west Auckland. It was Adams' best throw in four and a-half years and demonstrated she is right up where she needs to be heading for the Games.
"Everything clicked, and I was very happy with that performance. I threw over 19m four times, and it was a good backup. Now I really need to compete against the top girls internationally, and be put under that pressure … if we can make that happen it will put me in an even better position."
That box should be ticked when Stevenson's squad head to Europe in late May to launch preparations for Tokyo. For Adams, it will be an important step down that magical pathway she hopes will conclude with a fairytale finish to one of the great Kiwi sporting careers of all time.
New Zealand's medals in Tokyo should come via the traditionally strong sports, with the rugby sevens teams, sailors Peter Burling and Blair Tuke, canoe sprinter Lisa Carrington, an outstanding women's rowing squad, the cycling team pursuiters and equestrian three-day eventers expected to lead the gold medal charge.
Others, such as 49er sailors Molly Meech and Alex Maloney, athletes Tom Walsh and Eliza McCartney (if she's fit and qualifies), the women's hockey side, swimmer Lewis Clareburt, cyclist Campbell Stewart and the men's madison team, the K2 and K4 canoe sprinters, trampolinist Dylan Schmidt and golfer Lydia Ko should also be right in the hunt for medals.
And, of course, Adams will be there too, "smashing it" in her quest for a fourth medal from her fifth Games. That's a given.
Photo Credit: Alisha Lovrich/Athletics NZ