HEPA Filter with UV-C LED
99.995% reduction in airborne viruses proven to provide safer environments – 24/7 cycle so staff know the office has been cleansed.
As hospitals around the world increasingly use ultraviolet light to destroy airborne pathogens, the lighting industry is responding with new solutions that bring UV air purification into standard lighting designs.
Covid has accelerated this demand but the technology will deliver protection against many airborne threats long after the panic over Covid has subsided.
Typically, ultra violet (UV) devices are being developed as standalone systems or appliances Pierlite, however, has taken a different approach that will safely deliver clean air to offices as a simple troffer retrofit and LED lighting upgrade.
Pierlite has launched Aether, the first LED T-Rail troffer to incorporate UV-C technology in a light-trapping disinfection chamber that deactivates pathogens as a 30 watt DC fan pushes air through it.
Aether is designed to operate over a 24/7 cycle so that office staff can come to work in the morning knowing the office air has been cleansed and viruses like the flu and Covid have been neutralised.
A single pass through the Aether fitting will deactivate 99.995 percent of virus particles so anyone coming into the workspace with a respiratory illness like Covid, will be far less likely to transmit it to anyone else because an Aether installation can treat all the air in a room up to four cycles an hour with a clean air delivery rate of 47 litres a second.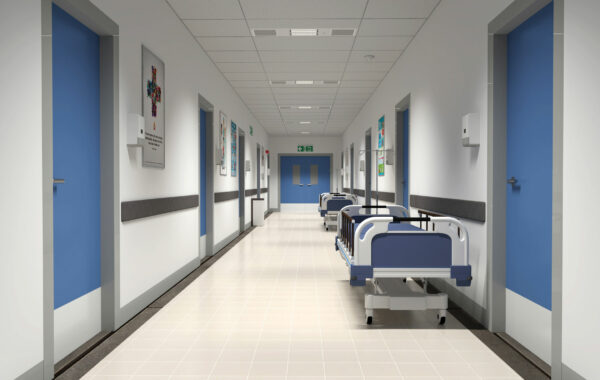 This can be done safely and unobtrusively because no lethal UV light can escape the treatment chamber, and the irrevocably damaged pathogens can also not escape because they are trapped in the fitting by a replaceable HEPA filter.
The lethality of the UV light produced by Aether is known as UV-C. Pierlite uses an LED chip that produces short wave (254 nm) UV light in the C range where the photons vibrate faster and carry the extra energy needed to disrupt the DNA and RNA genetic functions of airborne pathogens and micro-organisms like mould, bacteria and viruses.
The H13 medical-grade HEPA filters then capture these minute particles with extraordinary efficiency down to a micron level of 0.1. Covid-19 is approximately 0.125 microns in size and gets filtered
out. The purified air is returned to the office environment to provide continuous staff protection and reduced illness and sick days.
Pierlite has selected componentry to deliver the certainty of effective airborne treatment. The UV-C LED chip is the same used by NASA to sanitise the air and protect astronauts on the international space station.
The introduction of the patented air-purifying Pierlite Aether troffer has now enabled the electrical industry to market not just LED office lighting upgrades but also airborne virus protection and health treatment at the same time.
The primary duty of care under the Health and Safety at Work Act 2015 (Section 36) requires PCBUs to ensure the health of workers while at work, so far as is reasonably practicable. Aether is a practicable solution to this mandatory requirement that will also provide
low-glare lighting.
While Aether has been designed to drop into standard T-Rail ceilings with its 1190 by 290 mm dimensions, it can also be recessed into other ceiling surfaces, surface-mounted or suspended using optional accessories.
The Aether plug-and-play troffer has a five-year warranty on the light fitting and driver, three-year warranty on the UV device fans and related electrical components, a two-year warranty on the UV-C LED replaceable module (or a maximum of 15,000 hours), and a six-month warranty on the safely replaceable HEPA filters.
This provides ongoing maintenance work and a relationship build for electrical contractors while increasing the focus on human-centric lighting for health.
An Aether unit will treat the equivalent area of a 21m² room effectively making Aether troffers particularly useful over shop counters, in large and small offices, classrooms, hotels, shopping centres, transport hubs, aged-care facilities, A&E treatment centres and anywhere people gather or spend a lot of time, like at work.
Although moving into health care and staff safety is a new avenue for lighting design, Aether provides a simple addition that can be specified and installed with confidence.