The New SM2 Power Adaptor from Sitemate
Sitemate Power Systems have been building on their range over the past year and are excited to announce the launch of the new SM2.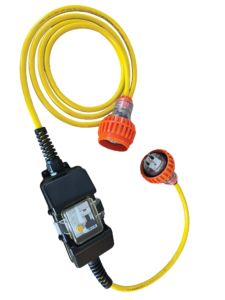 The SM2 is a power adaptor which safely and legally allows a 15 amp power tool to plug into a 10 amp domestic socket.
"Time and time again, the feedback we have received from electricians who test and tag electrical equipment say they find 15 amp plugs with the Earth pin 'ground back' to enable the tool to be plugged into 10 amp sockets. The clients are frustrated as once this has been done – the tools are not able to be tagged safe" says Bruce Bailey, Sitemate Business Manager.
"So we designed a power adaptor that enabled the tradesperson to safely connect their 15 amp power tool into a 10 amp power supply when working onsite therefore overcoming the unsafe practice of grinding the earth down."
The Sitemate SM2 is designed and assembled in New Zealand and has
been third party tested and certified to meet AS/NZS 3190. It includes a 10 amp RCBO for overload and earth leakage protection enclosed in an IP44 protected housing which is weatherproof for
outdoor use.
Cable support glands have been added to the design for long life cable protection and mounting holes have been included should the user wish to tie the adaptor out of the way when in use.
It is important to note that this device does not convert 10 amps into 15 amps, but will allow the device to run at reduced power to prevent overloading of the 10 amp power supply.
For more information talk to your local Powerbase branch.