How Electrical Safety has changed
The recent summer holiday break gave me the opportunity to deal with a few electrical jobs that I needed to attend to. And when doing these I had the opportunity to contemplate how electrical safety has evolved over time.
For me, the removal of a spa pool from a friend's property and the restoration of a fishpond were key tasks that needed attending to. While not strictly prescribed electrical work, the isolation of multiple circuits was a critical part of the work.
This had me contemplating where we have got to in the energy and electrical safety space, and how we got here.
Identification of the circuit was relatively easy as there was only one RCD in the switchboard, a reminder of how things have changed since the early 2000s when this switchboard had been installed.
But it did look a bit strange, justifying double testing of the circuits to the pool before commencing work.
The pool had its own switchboard which made the pool, as an appliance, similar to a submain fed second installation. But what I found here were several conductors, including a green earth conductor in the TPS circuits feeding the pool that had been sleeved with red tubing to indicate that they are live conductors. An old practice which is no longer allowed and demonstrates why testing before working is so critical, especially when kneeling on a wet patch of concrete while carrying
out the work.
There were two circuits from the main switchboard, fortunately both supplied from the RCD I had tripped. At this point I note that I used the test button rather than operating the toggle, an old trick from my time in mining as it serves to verify that the RCD is operational.
The pool was supplied through its own isolator which was able to be locked in the OFF position, something critical if I was only isolating the pool for others to remove it.
It is imperative to ensure that the risks we leave behind have all been addressed and mitigated.
Update to Regulations in 2022
I was reminded about the lockable isolators when I saw a hot water cylinder cable and standard switch on sale at a local retailer's shop over the break. It is important to note that this should only be sold as a replacement (See Regulation 59 (3) of the Electricity Safety Regulations 2010), and not for use in a new installation.
"Three Thou", the installation standard AS/NZS 3000:2007 now requires a true isolator for hot water heaters, one which cannot be moved to the OFF position if the contacts are not broken and one that can be locked in the OFF position.
This is because plumbers may be required to access the element enclosure.
Upon seeing the older style cylinder switches and reflecting on the new legislation, I was reminded of the surprise you get when the power to the water heater comes on by itself, with the help of the electricity supplier.
Being aware of both old and new practices is something we need to consider when working with and around electricity, particularly when it comes to testing – an important part of Prescribed Electrical Work (PEW).
All of this must be considered in context with the "Three Thou" AS/NZS 3000:2018, particularly as a series of updates is coming to the regulations.
WorkSafe expects decision will be made to transition into the 2018 edition of AS/NZS 3000 in Regulations by mid-2022, with an appropriate "warm up period" for work that has already been commenced in line with the 2007 version.
Similarly, the companion standards of the 3000 family and the PV and inverter standards will also be updated.
Global warming has meant the energy sector has had to make substantial changes.
Appropriate use of equipment
Over the holiday period I was asked to check two electronic pest eradicators.
One of which was 120 volt 60 Hz rated and the other 220 volt rated that had its plug modified to work in New Zealand by an electrician I was told. Both were testing the circuit breakers on a regular basis.
There is a lesson to be learned here. Not all items are suitable for use in New Zealand, especially those that are not marked with the 230 volts of our power system. 240 or 220 volt appliances are not suitable. Switches and cables of course can be marked with a maximum voltage, but safety items such as RCDs and appliances must be suitable and marked for use with New Zealand standard low voltage of 230 volts.
It is important to understand that "Test and Tag" is only suitable for appliances that were compliant when new and is far from adequate to assess the safety of a new appliance.
If you purchase equipment from overseas or "online" to install for your customer you could find yourself being held accountable for compliance with the supplier obligations of the Regulations, so make sure you know the pedigree of the products you install. Get supplier declarations if in doubt. A recent recall of DC isolator certification is a demonstration of the risks.
PPE (Personal Protective Equipment) & Installation Safety
Finally, with all the QR codes, face masks and gloves don't forget that electricity can get a bit excited from time to time. Make sure you wear the right PPE, not just have it in the van, or being carried by the apprentice. And think about confined spaces, especially on a hot day.
Coming back to global warming, the response is going to load the electrical system more than it has been loaded before, so if you are installing a high-power device such as an EV charger, or a big PV array, take a little time to check that the installation will not be overloaded. Recalculate the volt drop and conductor ratings. And ask for compliance information for equipment you are unfamiliar with and attach it to your CoC's.
So, I am now back to work knowing I have tested all my RCDs and looking forward to an interesting future where my EV will serve to "Bring Your Own Electricity" to the neighbor's BBQ, and maybe even the old power line pylons will be used as anchoring towers for hydrogen airships.
Keeping homes safe for when the occupants come home from their workplace is part of our work as electrical professionals.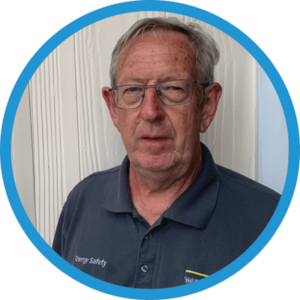 Peter Morfee
Principal Technical Advisor, Energy Safety, WorkSafe NZ.