New Zealand's top sprinters are making some big moves on the athletics scene…
MARC HINTON reports.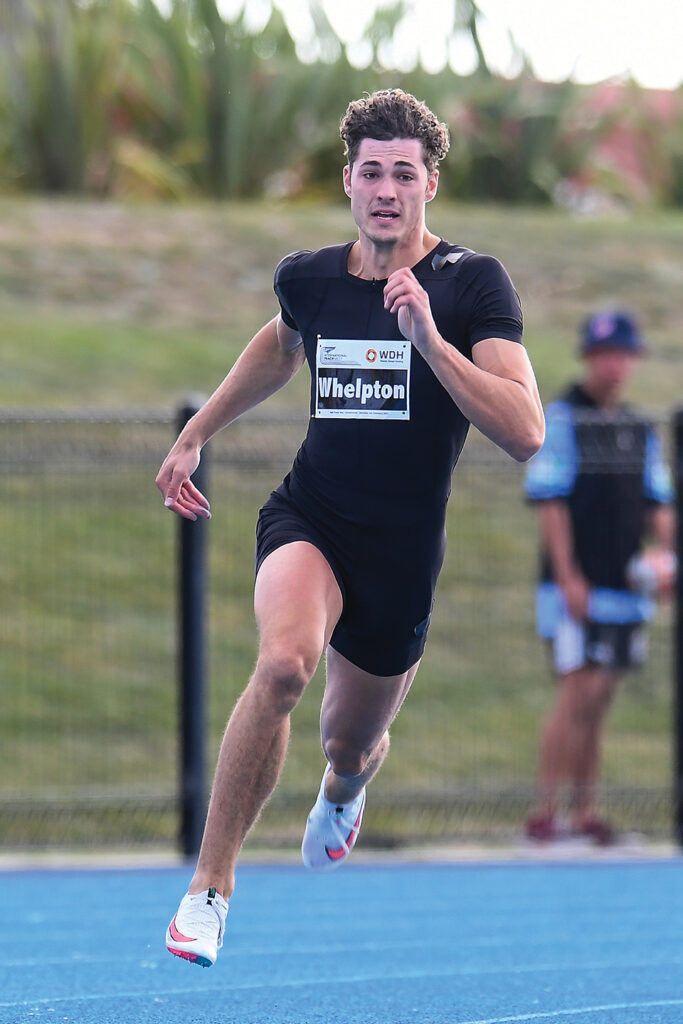 Move over shot put and middle-distance running, there is a revolution going on in New Zealand track and field, and it would appear that sprinting is ready to race all the way on to centre stage.
If the names Zoe Hobbs and Tiaan Whelpton, Eddie Osei-Nketia and Georgia Hulls, Rosie Elliott and Anna Percy don't mean anything to you, well stay tuned, because you might soon be hearing more about them. And more. And more.
New Zealand has never been what you might call a global haven for sprinting. The fast-twitch types of international track have tended to come from the Caribbean or African nations, or the US, Canada and Britain. Gus Nketia (the Ghana-born Kiwi) still holds the national men's 100m mark (10.11 seconds), set all the way back in 1994.
But could there be a shift in that balance of power? Sure, Tom Walsh and Maddie Wesche remain at the pointy end of shot put, and Geordie Beamish and Sam Tanner are set to pick up the 1500m baton that the likes of Jack Lovelock, Peter Snell, John Walker and Nick Willis have carried so proudly.
But for the first time in, well, ever, New Zealand has a wave of sprinting talent set to take a giant stride on to the global stage.
There is 21-year-old Christchurch-based former South African, and part-time model, Tiaan Welpton who in January ran 10.09sec for the 100m in Hastings, which would have beaten Nketia's 28-year-old national record – not to mention the Commonwealth Games B standard — but for a wind gust at the wrong time. He still posted a legal PB of 10.18sec in the final, which was the equal fastest time ever run in New Zealand and joint fourth on the all-time rankings list.
Watching that scene play out from across the Tasman, where he's now based, was good friend Osei-Nketia, son of the aforementioned national record-holder, and a 20-year-old who has a PB of 10.12sec – the second fastest time ever run by a Kiwi.
Both are agonisingly close to breaking into the big time. A 10.07 would guarantee them a spot at the Commonwealth Games in Birmingham (the B standard is 10.12), while 10.05 is the entry mark for the world champs just before in Oregon. They are knocking on that door.
The women's side of the equation is equally exciting. Auckland's Zoe Hobbs in February produced the 100m of her life when she ran 11.15sec in Hastings to not only slash her own national record (which she had broken twice hitherto this season) but likely gain a spot at the world champs (indoors and out), and Commonwealth Games.
Hobbs is a class act, but she has a bunch of mostly young rivals nipping at her heels in the form of fellow Aucklanders Georgia Hulls and Livvy Wilson and Cantabs Anna Percy and Rosie Elliott.
So collectively fast are these young women, there is a firm belief they can qualify the 4×100 relay for a rare appearance at a major championships in 2022.
It's tough being a sprinter. Qualifying times for major meets are notoriously brutal. Their event is deep with talent. As Whelpton notes, you know what you're signing up for when you become a
100m specialist.
"It's the sexy event; the main item most nights in a meet, and probably the main attraction of the Olympic Games," says the Cantab. "Everyone wants to see who the fastest people on the planet are, and of course that comes with a much bigger competition pool because everyone
wants to do it."
But Whelpton feels part of a changing of the guard. "I've heard countless times we're a throws country, a middle-distance country, that sprints aren't suited to our gene pool. They're just excuses. It feels really good to show people we can be a world-class sprinting country."
Hobbs agrees. Like Whelpton, she feels like she's only scratching the surface of her true speed, and has major ambitions over the next few years.
"It's cool to see a lot of people stepping up in sprinting – it's on fire at the moment, and we do have that depth there to make relay teams now. It's exciting times."
Indeed. New Zealand's best sprinters are not just on their marks and set, they're well and truly in go mode.