Next-Generation Series with Digital Innovation
Over more than four decades, the TeSys F range of contactors has built a high reputation for performance, reliability, and quality.
The TeSys F range set the industrial standard for high power contactors with an installed base of millions of products. TeSys F contactors were the first choice of many OEMs, control panel builders and industrial users.
But industry requirements have evolved to demand process performance monitoring through data networks and online expert services.
TeSys Giga is Schneider Electric's new range of contactors that answer these evolving needs. TeSys Giga Contactors support the evolution of processes and offer new services to reduce nonproduction time to a minimum. Replacing TeSys F Contactors, TeSys Giga Contactors address a wide range of demanding applications with built-in advanced features and functionalities.
The next-generation TeSys Giga series motor starters offer robust performance while optimising your time on tasks thanks to its range of new technical features:
115–800-A contactors, 28–630-A overload relays
Self-diagnostic indicators and full- scale protection that helps speed up corrections and prevent downtime
Streamlined commercial references for much faster product selection
Modular design that simplifies machine integration and maintenance
On-board PLC operation control
TeSys Giga Series Motor Starters
Tesys Giga series reduces engineering time and complexity, improves machine reliability and uptime, while driving down maintenance costs through several unique features:
Advanced and standard versions – suit different customer needs, providing flexibility of choice.
Modular design – enables easy replacement of spare parts to improve the reliability and robustness by up to 90% with up to 50% faster integration and commissioning time.
Compact footprint – 40% product size reduction supports optimal cabinet installation space.
Self-diagnosis – achieve predictive maintenance with unique calculations to better diagnose and detect: contact wear, tips wear level, coil under/overvoltage, internal fault, and contactor open and close status. This feature significantly maximizes resilience and uptime for an efficient site operation.
Full-scale protection – initial settings provide a safer journey when it comes to overload relay protection, including trip class selection, ground fault protection, and phase imbalance protection.
QR codes – easy and quick access to technical documents, video guides, and counterfeit safeguards to help improve the customer's digital experience.
Highly reliable within harsh environments – improved auxiliary contacts (17V,1mA,10-8) enable better reliability in harsh environments and conform to high-density PLC input applications.
Motor starters – assembled with LR9G electronic thermal overload relays, these starters are compact in design, and direct mounting of overload relay saves space and installation time.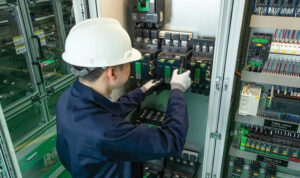 EcoStruxure™ Motor Control Configurator
Find the best motor control solution for any application with the options to:
Build your motor starter configuration with different solutions
Complete offer base suited for different countries
Easily select and replace complex paper catalogues
Convert into Bill of Materials by adding the products to the cart
Save and re-work your configurations
Directly access product documentation in one place