Is Lisa Carrington now our greatest ever Olympian?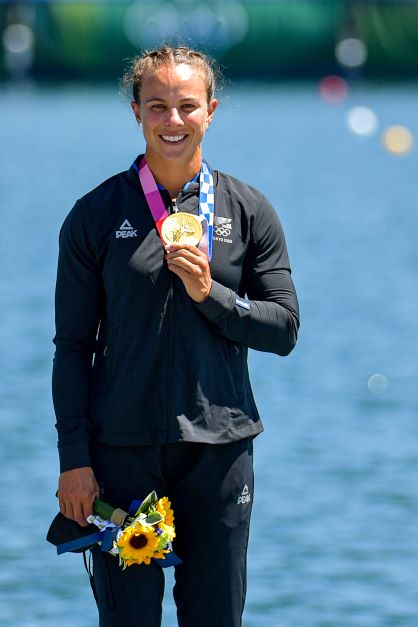 In doing so she surpassed the five medals won by fellow flatwater kayakers Ian Ferguson and Paul MacDonald (in 1984 and '88), and equestrian genius Mark Todd (1984-2012), while her handful of golds also powers her ahead of Ferguson's quartet. It's a remarkable haul, given that the Auckland-based pride of Ohope is still only 32, and a realistic chance of adding to her tally in Paris if she elects to paddle on.
Tokyo showcased Carrington at her very best. She was totally dominant in the 200m – an event she hasn't lost in since 2012, but which is at this stage not on the programme for Paris – was almost as impressive in the 500m (becoming the first woman to do the double) and teamed with Caitlin Regal to notch her first games gold out of the single.
Carrington exuded class throughout the Tokyo regatta, from her single-minded focus, her relaxed manner, her casual loading of food between races in her packed, four-event programme and her natural charm and effervescence which shone like a beacon.
The secret to her success? Not over-thinking the challenge was a big part of it.
"There was a lot of talk, people saying, 'You could do this, you could do that,' but it was just making sure I just did what I could do, not focusing too much on the what-ifs," she reflected in Tokyo. "When you set out to do a huge task, it is super scary to think it is possible, so I just did the best I could, and worked incredibly hard. It is amazing to be able to pull it off.
"To achieve so highly, I guess is to not make it about the results … to reach more into myself to reach that potential. It's just trying to be better than I was the day before."
So where does Carrington's body of work now place her in the pantheon of New Zealand Olympic greats?
Right up there, is the simple answer. If your measuring metric is purely mathematical, there have been none better. But, of course, such absolutes are never that simple, especially when comparing different sports, different eras, different playing fields.
Middle distance maestro Peter Snell is widely considered New Zealand's finest Olympian, with his three gold medals (from three attempts) spread over the 1960 and '64 Olympics. For impact, quality of performance and pure athletic achievement in two blue riband events in a truly global sport, it was an achievement that stands the test of time.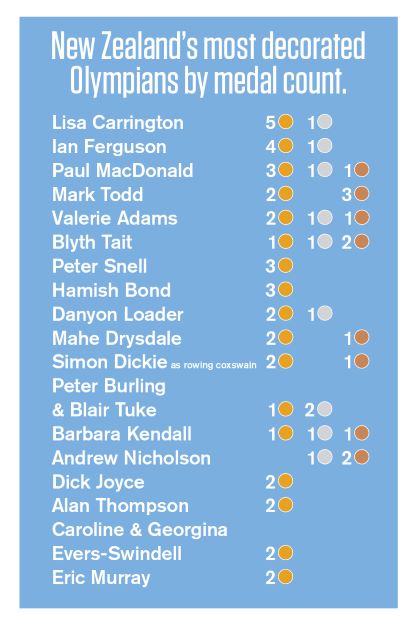 But others have, if not knocked him from the pedestal, at least produced comparable efforts. Swimmer Danyon Loader's two freestyle gold medals at the 1996 Atlanta Olympics, following a silver in Barcelona four years earlier, is considered another signature performance in a big-time Games sport, while three-day eventer Mark Todd's two golds and three bronze medals across a career spanning four decades is also more than worthy.
Paddler Ian Ferguson won those four golds in the '80s, though the Eastern bloc boycott of the '84 Games places somewhat of an asterisk next to three of those triumphs.
Then there are two of Carrington's Tokyo team-mates who are also in the conversation. Rower Hamish Bond won a third straight gold medal when he was an integral part of the storybook victory by the men's eight, while shot put queen Dame Valerie Adams made it four medals across four Games (two golds, a silver and her bronze in Japan) as she returned from having two babies over the final Olympic cycle.
For many of a certain vintage Snell will always be the GOAT (greatest of all time). He bestrode his sport like a colossus for an all too brief period. But for others the achievements of Adams, of Bond, and now of Carrington are comparable. Perhaps even better because of their longevity.
Carrington spoke in Tokyo about her racing ethos "to look down and think what a privilege it is to be feeling how scary it is in that moment. Things that scare me the most are the things that I need to figure out and ultimately those scary things you shy away from, there's gold on the other side of it."
Article written by Marc Hinton Sports Writer